Gasfabrik


Usine à gaz




Gaswerk

Déifferdeng - Differdingen - Differdange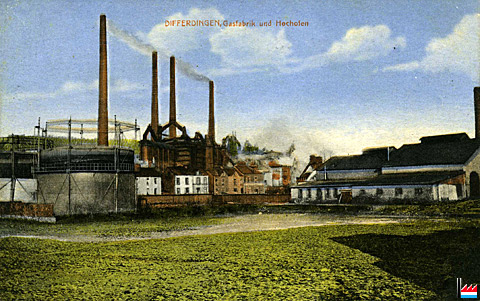 Gasfabrik Differdingen - Gasometer und Hochofen (Carte postale: Artist. Atelier H. Guggenheim & co., éditeurs, Zürich N0 7126a; collection industrie.lu)
Historique - Geschichtlicher Überblick
1901
Construction de l'usine à gaz de Differdange par G. Flesch
?
Fr. Seelig
1903
Thüringer Gasgesellschaft, Leipzig
1910
N° 100 (v. Mémorial 1910, p. 574) - Station centrale de l'électricité pour l'éclairage et la force motrice d'Esch-sur-l'Alzette

Henri Kayser, inspecteur de l'usine de gaz à Differdange est désigné comme administrateur par décision de l'assemblée générale des actionnaires du 1er octobre 1910. - Du 11 février 1911
1911, 7.1914
Kaiser (?), Direktor der Gasanstalt in Differdingen
1920 (?)
Schließung
1923
Petermann Charles, directeur usine à gaz
1953

Rachat par les 6 communes desservies par l'usine d'Esch, à savoir Esch/Alzette, Differdange, Pétange, Schifflange, Sanem et Bascharage, reprirent la société en acquérant la totalité des parts sociales des anciens actionnaires Les parts furent réparties en fonction du nombre d'habitants de chaque commune.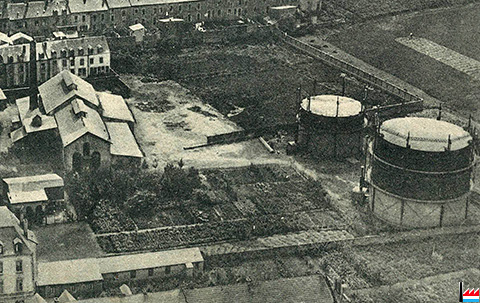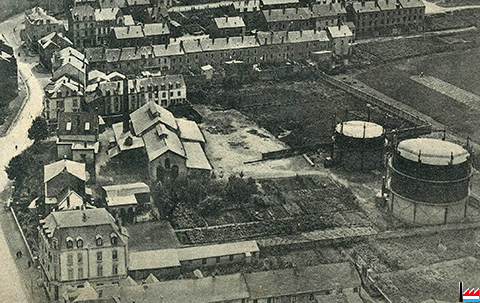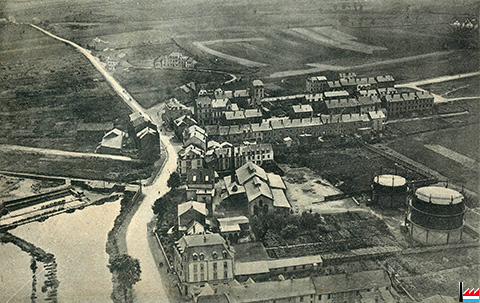 Gasfabrik Differdingen - Gasometer - Fousbann - 1929 (Carte postale: J. Ferres, Obercorn 1929; collection industrie.lu)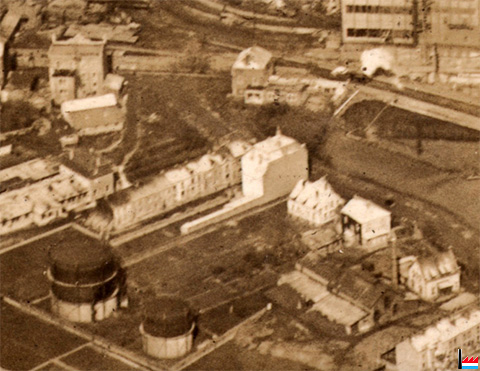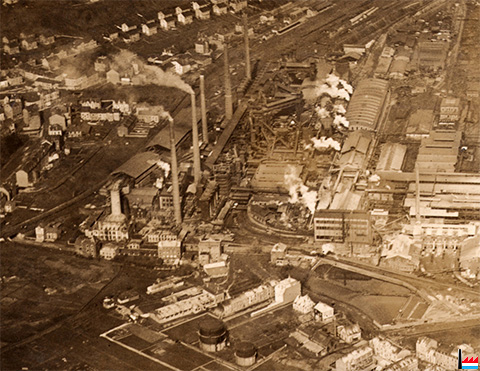 Usine à gaz + Usine de Differdange (Photo aérienne: U.S.3A.9Sq.C-133 12h, 700 m. 26 cm, 15.3.1919)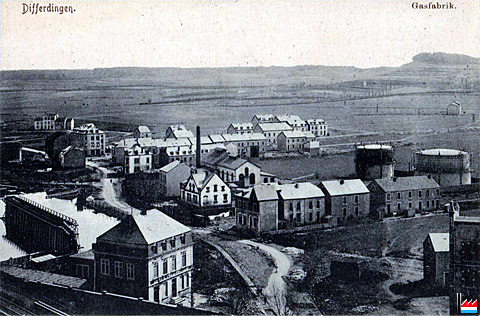 Gasfabrik Differdingen (Carte postale: collection industrie.lu)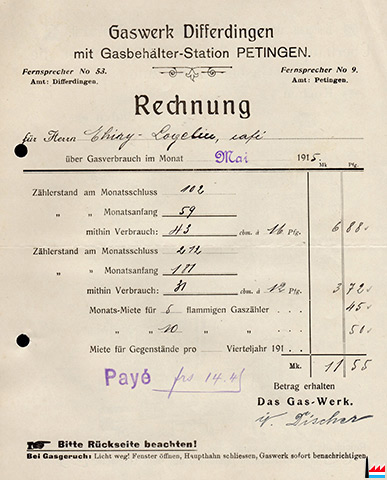 Rechnung Mai 1915 vom Gaswerk Differdingen mit Gasbehälter - Station Petingen (Collection: industrie.lu)
Bibliographie

Titel - Titre

Author - Auteur - Autor

Date

Edition - Verlag

Contents - Contenu - Inhalt

Pages- Seiten

ISBN

La question du gaz au Grand-Duché de Luxembourg
Conseil supérieur du gaz
3.1962
Luxembourg; Imprimerie St.-Paul
94

100 Jahre Gas in der Stadt Luxemburg

1838 - 1938

Paul Wurth - Majerus
1938

Luxembourg; Imprimerie St.-Paul

Sonderdruck aus "Ons Hémecht"

63
This is not the official page of this company / person. Any information or picture completing these pages is welcome! For more information just send us an e-mail.
Ceci n'est pas la page officielle de cette firme / personne. Toute information ou photo pouvant compléter ces pages est la bienvenue! Pour des informations supplémentaires, veuillez nous envoyer simplement un e-mail.
Dies ist nicht die offizielle Seite dieser Firma / Person. Jede Information oder jedes Foto, welche(s) diese Seiten vervollständigen, ist herzlich willkommen! Für mehr Informationen, senden Sie uns einfach eine E-mail.
| | | |
| --- | --- | --- |
| | | Created by / Créé par / Copyright: jmo |