15.10.2019: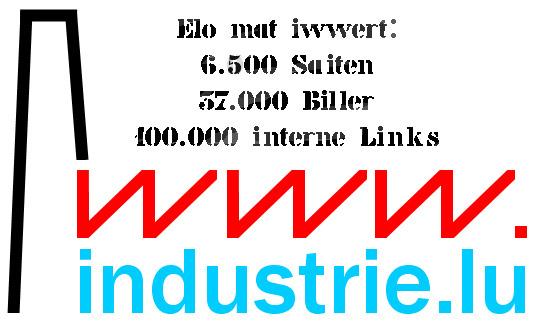 industrie.lu - D'Industriegeschicht vu Lëtzebuerg - elo op iwwert 6.500 Saiten.
industrie.lu - Die Industriegeschichte Luxemburgs - jetzt auf über 6.500 Seiten.
industrie.lu - L'histoire industrielle du Grand-Duché de Luxembourg - maintenant sur plus de 6.500 pages.
industrie.lu - The industrial history of the Grand-Duchy of Luxembourg - now on more than 6,500 pages.

Villmols merci u Jidderen deen dobai matgehollef huet!
Weiderhëllefen kann een eis weiderhin mat Informatiounen, Verbesserungen, aalen Dokumenter, Prospekter, Rechnungen, Aktien, Produkter an hir Verpakung, Reklammen, Fotoen, Bicher, asw. vun lëtzebuerger Industrien. Jidder zousätzlech Informatioun a jiddwer Foto ass wëllkomm. D'Original kritt Der natierlech zréck!


Ennerstëtzen kann een de Projet industrie.lu awer och mat der Bestellung vun der neier der industrie.lu - DVD, dem industrie.lu - USB -Stick oder engem Don:
"industrie.lu - DVD" oder "industrie.lu - USB- Stick" mat dem ganzen Inhalt vun industrie.lu

Bei Bestellung vun der "industrie.lu - DVD", resp. dem "industrie.lu - USB - Stick"  kritt Dir déi jeweils aktuellst Versioun vun industrie.lu, mat enger ganz performanter Recherchefunktioun heem geschëckt.

Prais mat Porto:  25€

 
Villmols merci am Viraus fir Är Ënnerstëtzung!
industrie.lu a.s.b.l.
IBAN: LU45 1111 2423 6963 0000 BIC: CCPLLULL