CNCI - Centre National de Culture Industrielle - National Centre for Industrial Culture


Luxembourg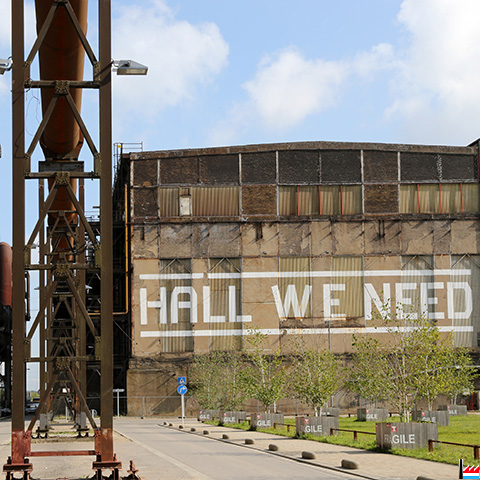 HALL WE NEED - Futur CNCI - Centre National de Culture Industrielle - National Centre for Industrial Culture Luxembourg, à Esch - Belval ? (Photo retouchée par industrie.lu)
Geschichtlicher Überblick - Historique
Gesetzesprojekt Nr 6065 zur Schaffung des "Centre national de la culture industrielle" (CNCI)
La création du Centre National de la Culture Industrielle (CNCI) est intimement liée au projet de conservation des hauts fourneaux de Belval, qui représentent un lieu de mémoire exceptionnel de l'histoire nationale. Intégrés à un nouveau quartier urbain, qu'ils dominent par leur silhouette majestueuse, les hauts fourneaux A et B sont à la fois contenant et contenu muséologique pour ce lieu vivant, où passé et présent se rejoignent. Le CNCI a vocation à devenir un centre culturel à rayonnement national et transfrontalier, orienté vers la découverte de la sidérurgie luxembourgeoise, mais aussi, de l'histoire de l'industrie moyenne et petite du pays entier, et de manière plus générale, vers la culture industrielle et l'histoire du travail.

CNCI - Centre National de Culture Industrielle - Belval - Luxembourg (Photo: 4.5.2007 jmo)

Lëtzebuerg braucht dringend een Zentrum fir Industriegeschicht an Industriekultur!

Villes vun eiser Geschicht a Kultur ass am gang fir ëmmer ze verschwannen!

industrie.lu setzt sech fir d'Schaafe vum Centre National de la Culture Industrielle (CNCI) an!
De virtuellen CNCI um industrie.lu

Ausstellungsobjekter
Lieux
Musées - Sites - Associations - Links
Energie
Wasser

Millen


Moulins
Mills


Mühlen

Stationär Dampmaschinn + Damploks

Stationär Dampmaschinn - Lokomobil - Damplok

ssmn.public.lu/fr/patrimoine/industriel/materiel_ferroviaire.html

Gasmotoren, Benzol, Benzinmotoren, Dieselmotoren
musee-energie.eu

Gasfabriken


Usines à gaz
Gas Works


Gaswerke

Elektresch

Elektreschzentralen




Centrales électriques




Power plants




E-Werke

Späicher:

Accus + SEO

musee-tudor.lu

Erneierbar Energie


Énergie renouvelable
Renewable Energy
Erneuerbare Energie
Eisen & Stol

Schmelzen


Usines (sidérurgie)


Iron and Steel Industry




Eisenhütten

Amicale des hauts fourneaux A et B de Profil-ARBED Esch-Belval

De Schmelzarbeschtermusée

FerroForum

Stolwierker
Aciéries
Steelworks


Stahlwerke




Ouni Thomas-Stol wier et zu Lëtzebuerg nët zum aktuellen Wuelstand komm

Walzwierker




Laminoirs




Rolling mills




Walzwerke

Divers

Minièren


Mines de fer


Iron Ore Mines




Eisenerzgruben


typësch lëtzebuerger Buggy - zu Eech gebauten elektresch Grouwelok - Quai - Ladestelle - Minièren



Musée National des Mines, Rumelange

Entente Mine Cockerill

Antimon-, Blai-, Koffergrouwen


Mines d'antimoine, de plomb, de cuivre
Antimony, Lead, Copper Mines


Antimon-, Blei-, Kupfergruben

stolzembourg.lu/mine-de-cuivre/visite/

Kalleksteebrëch


Carrières de pierres à chaux
Limestone Quarries
Kalksteinbrüche

Gipsgrouwen


Plâtrières
Gypsum Mines
Gipsgruben

Metallverarbechtungsbetrieber




Industries de la transformation des métaux




Metal Processing Industries




Metallverarbeitende Industrien

Atelieren




Ateliers




Workshops




Werkstätten

Géissereien




Fonderies




Foundries




Gießereien

Neelfabriken - Klautjen




Clouteries - Cloutiers




Nail factories - Nail Smiths




Nagelfabriken - Nagelschmiede

Faïencerien
Faïenceries


Faience manufactures


Fayencemanufacturen

Aulebäcker


Poteries
Potteries


Töpfereien

Elektrobetrieber




Ateliers électriques




Electric Workshops




Elektrobetriebe

Chimie-Industrien


Industries chimiques
Chemical Industries
Chemieindustrien

Seeffabriken




Fabriques de savon




Soap Factories




Seifenfabriken

Baumaterial
Steebrëch
Carrières
Stone Quarries
Steinbrüche
Sandkaulen

Zementsfabriken


Cimenteries
Cement Factories
Zementwerke
Zillefabriken


Briqueteries




Brickyards




Ziegelfabriken

Plätterchersfabriken
Fabriques de carreaux mosaïques
Ceramic tiles factories


Mosaik - und Plattenfabriken

Dach

Schiefergrouwen - Leekollen


Ardoisières
Slate Quarries
Schiefergruben
Musée de l'Ardoise, Haut-Martelange
Dachzillefabriken
Tuileries


Tileries


Dachziegelfabriken
Holz

Holzindustrie




Industrie du bois




Wood Industry




Holzindustrie

Carrossierën a Wooner


Carrossiers, Fabriques de voitures & Charrons




Coach Builders & Cartwrights




Kutschenbauer, Wagenbauer und Wagner

Bischtenfabriken


Brosseries
Brush Factories
Bürstenfabriken
Musée Industriel Larochette

Lederfabriken


Industrie du cuir
Leather and Tanning Industry
Lederindustrie
Gierwereien
Tanneries


Gerbereien

Händschefabriken
Manufactures de gants
Leather Glove factories


Handschuhfabriken




Schungfabriken


Fabriques de chaussures
Shoe factories


Schuhfabriken

Schungfabrik & Musée FERRUM

Gedrenks
Mineralwaasser / Limonadsfabriken
Eaux minérales / Limonaderies


Mineral Water / Soft Drink Factories


Mineralwasser / Limonadefabriken

Brauereiën


Brasseries
Breweries


Brauereien

Musée brassicole des deux Luxembourg

Waikellereiën


Caves à vin




Wineries




Weinkellereien

Brennereiën a Liqueurfabriken




Distilleries et Fabriques de liqueurs




Distilleries and Liqueur Factories




Brennereien und Likörfabriken


Distillerie Adam, Kehlen
Haltbarmachung von Esswaren
Äisfabriken


Glaçières




Ice Factories




Eisfabriken

Molkereien
Laiteries
Dairies
Molkereien



Iesswuerenfabriken


Fabriques de produits alimentaires
Food Industry
Lebensmittelfabriken

Gärtner - Blumegärtner


Horticulteurs
Fleuristes


Kunstgärtner- Handelsgärtner

Rousenzichtereien




Rosiéristes


Rosierists
Rosenzüchter
Zigaretten / Tubakfabriken
Fabriques de tabac et de cigarettes


Tobacco and Cigarettes Factories


Zigaretten- und Tabakfabriken
,

Stoff- a Kleederfabriken


Draperies et fabriques de confection
Cloth and Clothes Industry
Stoff- und Kleiderindustrie

https://www.naturpark-sure.lu/fr/nps-tax-offer-category/draperie/

Pabeierfabriken
Usines de papier
Paper Factories


Papierfabriken

Glasfabriken




Usines de verre




Glass Factories




Glasfabriken
Mir brauchen endlech ee Konzept wéi mir all de stockéierten Patrimoine valoriséieren a fir de Public zougänglech maachen kënnen!
Firwat gëtt et fir Industriekultur oft just Open-Air-Optrëtter op der Wiss?
E puer Beispiller - Quelques exemples - Einige Beispiele - Some examples: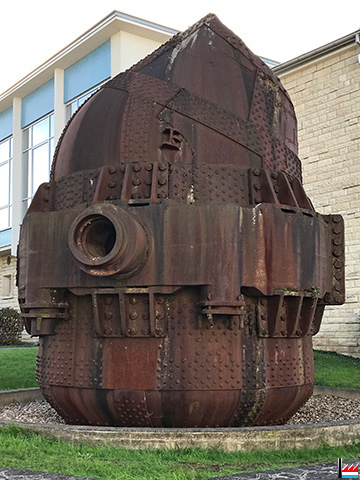 La Meuse Thomas - Birne IV (26 t) im Einsatz von 1951-1986 bei ARBED-Dudelange, jetzt ausgestellt vor dem LNB - Lycée Nic-Biever - Dudelange (Photo: 29.10.2017 jmo)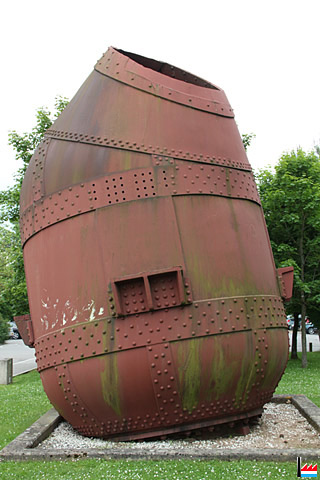 Monument: Thomas-Birne / Thomas - Bir N5 aus dem Schëfflenger Stolwierk
uni.lu - Campus Kirchberg (ancien Institut Supérieur de Technologie / Ecole technique / Technikum) rue Richard Coudenhove-Kalergi, Luxembourg, Kirchberg (Photo: 14.6.2010 jmo)
Obschonns dem Sidney Thomas seng Erfindung et eréischt méiglech gemaach huet mat der Thomasbier aus eisem phosphorräichem Minett Stol ze maachen, an esou Lëtzebuerg säi Wuelstand bruecht huet vun dem mir nach haut profitéieren, krut hien biselo, weder ee Monument zu Lëtzebuerg opgeriicht, nach steet seng Erfindung am Dréchenen.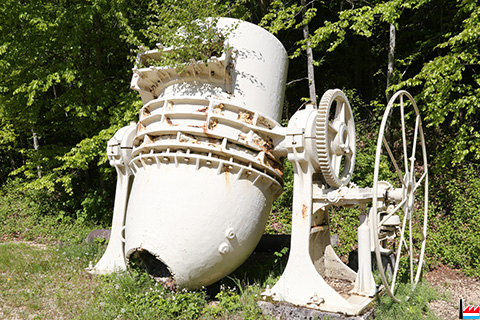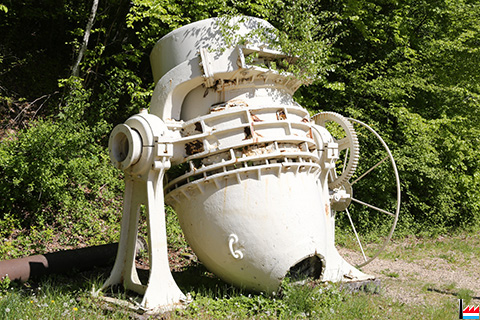 Bessemer (?) - Birne in Fond-de-Gras (Photos: 14.5.2019 jmo)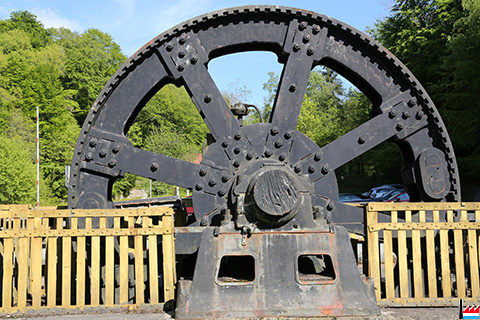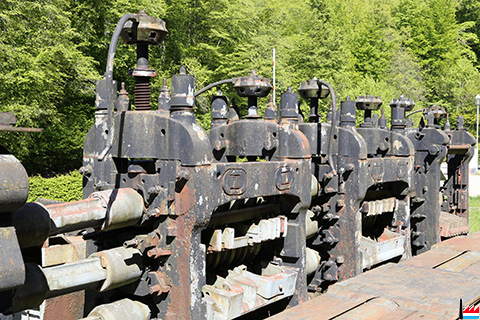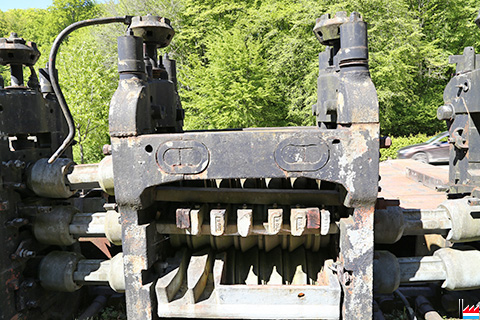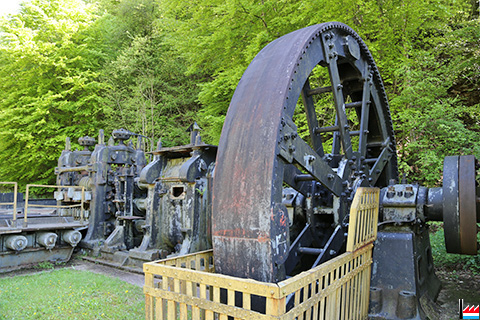 Monument in Fond-de-Gras: Belvaler Walzwerk N° V - train 5 (Photos: 14.5.2019 jmo)
Trio: die einzelne Gerüste sind mit 3 Walzen ausgestattet: Unterwalze, Mittelwalze, Oberwalze
3 teilige Anlage: Vorstraße - Mittelstraße - Fertigstraße
Kipptische, Schwungrad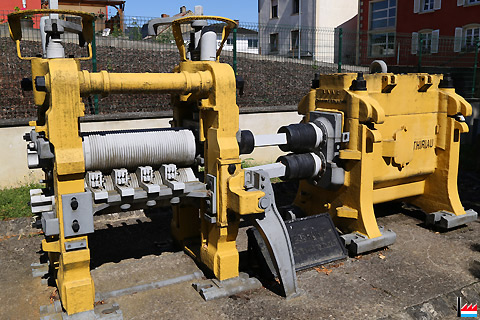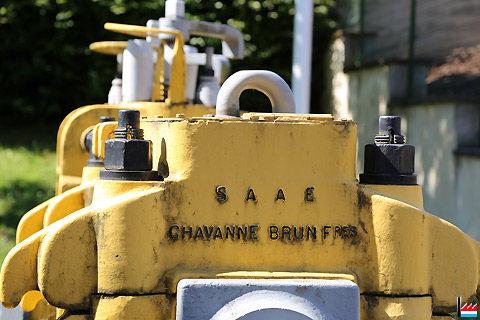 Monument à Mondercange, rue de Limpach: Elément No 16 du train VII de Belval (Photo: 14.8.2013 jmo)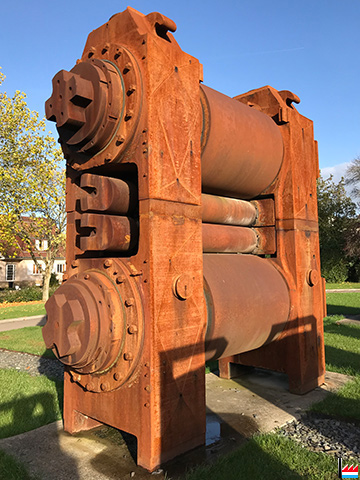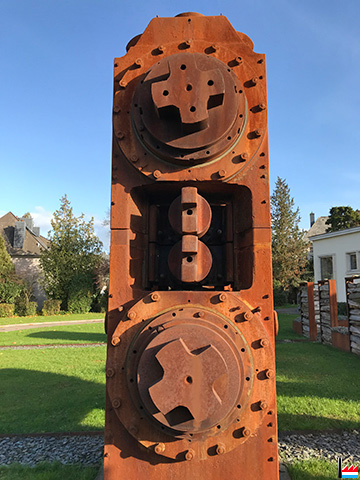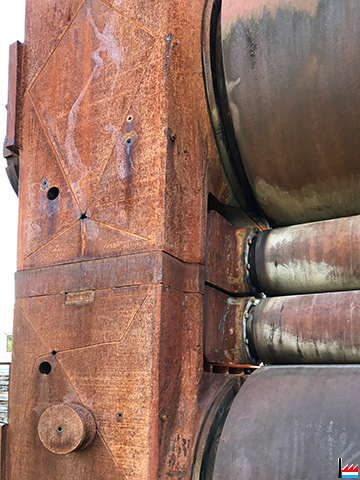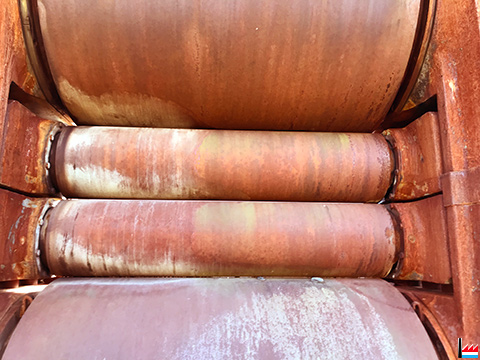 ARBED-Dudelange Walzgerüst (von welcher Walzstraße? - de quel train?), beim LNB - Lycée Nic-Biever - Dudelange (Photos: 29.10.2017 jmo)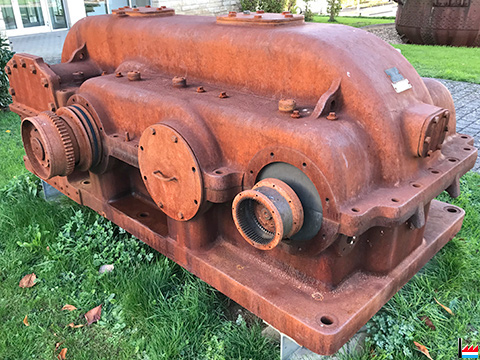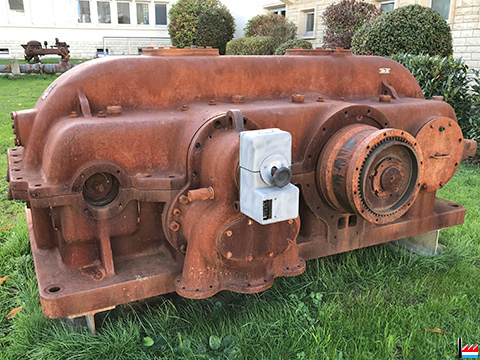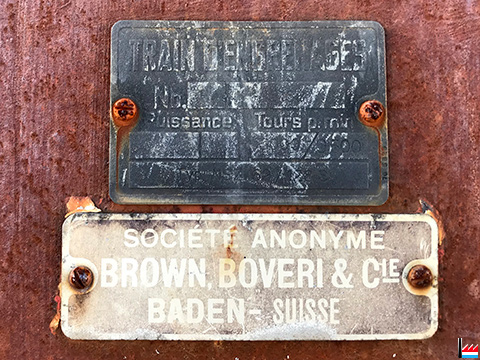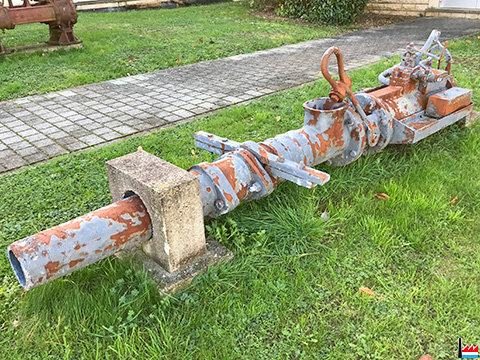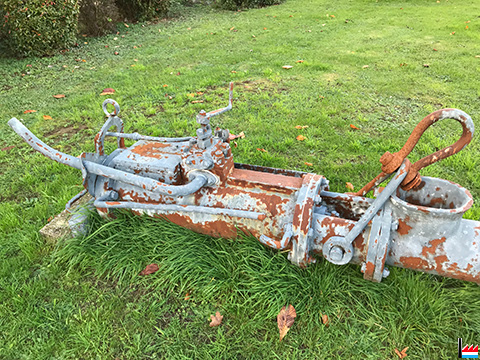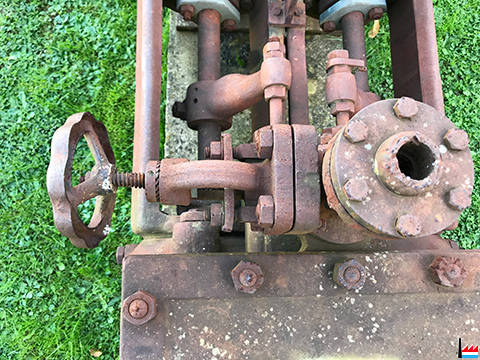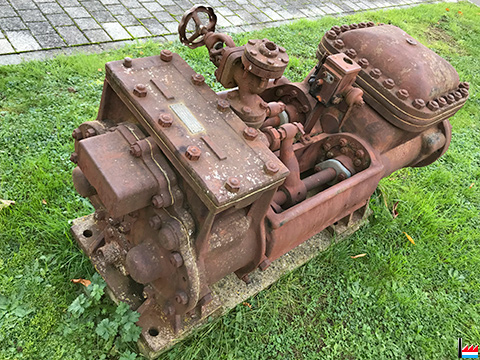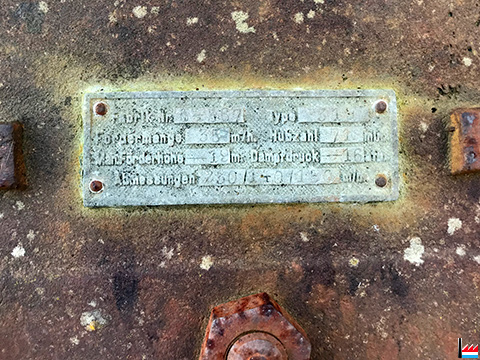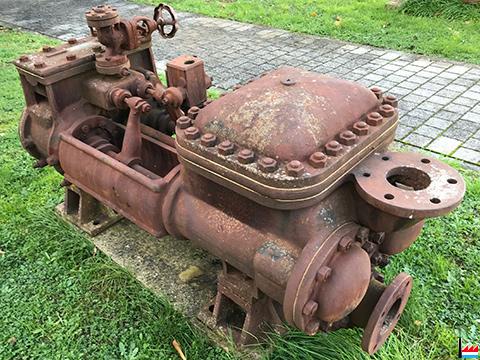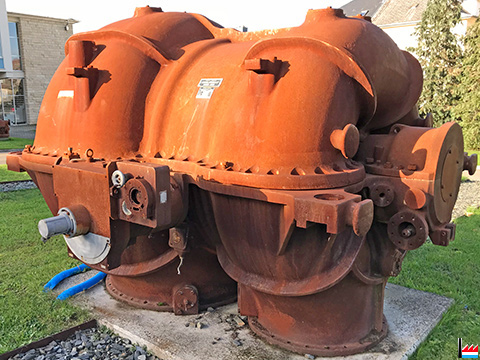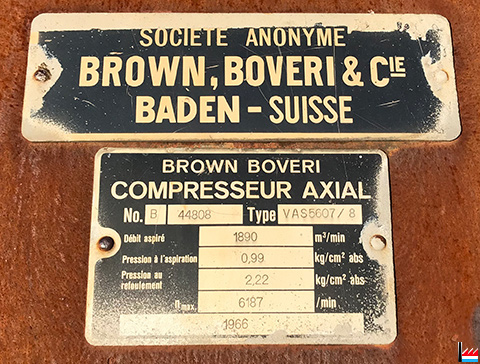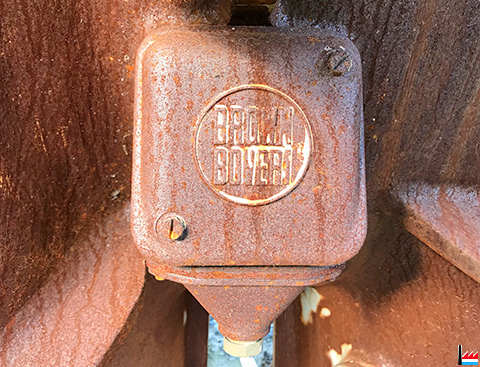 Maschinen von ARBED-Dudelange, beim LNB - Lycée Nic-Biever - Dudelange (Photos: 29.10.2017 jmo)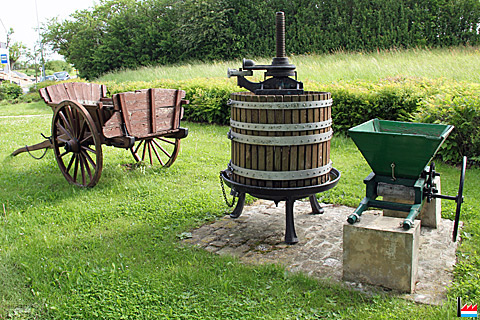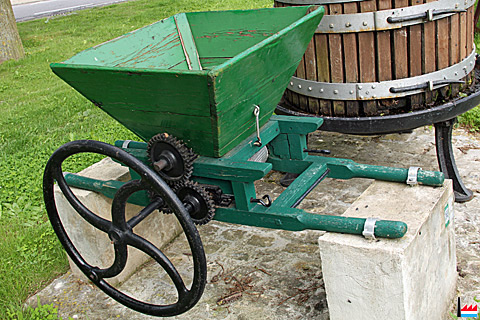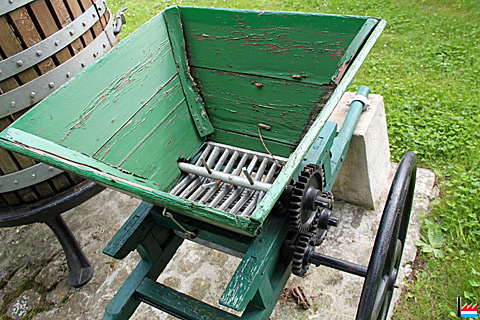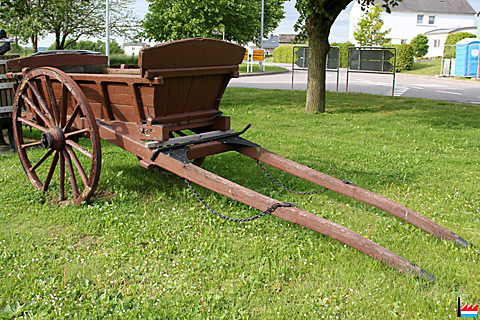 Monuments: machines agricoles - Monumente: Landwirtschaftliche Maschinen in Bürmeringen (Photos: 18.5.2012 jmo)
coin Rue d'Elvange / Rue Jos Kayser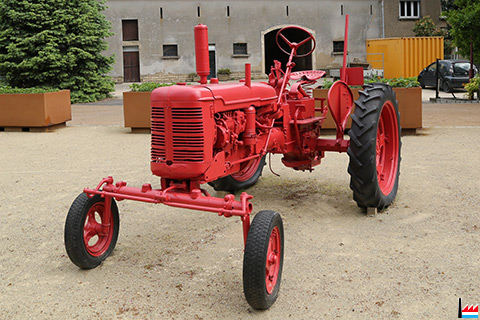 Monument: tracteur International Harvester Traktor - à Dudelange - Burange, rue des Près (Photo: 21.5.2014 jmo)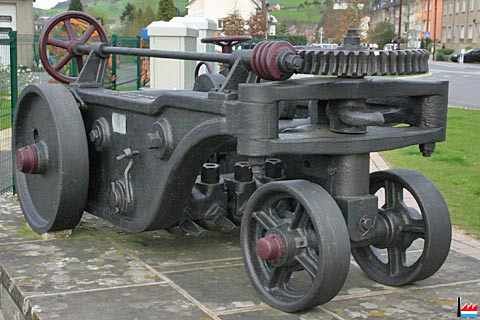 Zettelmeyer Aufreißer (Hubert Zettelmeyer, Konz bei Trier; Baujahr:1946; Eigengewicht: 3500 kg; Fabrik-No: 1390) Ateliers Ponts & Chaussées, route de Gilsdorf, Diekirch (Photos: 24.4.2008 jmo)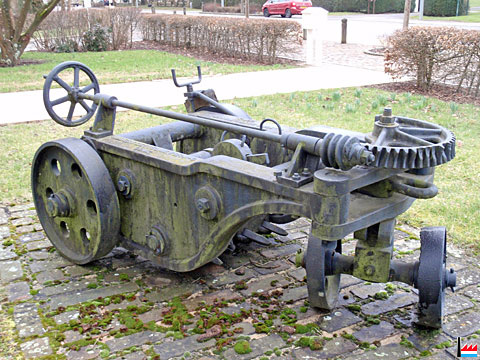 Zettelmeyer Aufreißer (Hubert Zettelmeyer, Konz bei Trier; Fabrik-No: 1134) Ateliers Ponts & Chaussées, 100 route d'Arlon L-8311 Capellen (Photos: 21.3.2010 jmo)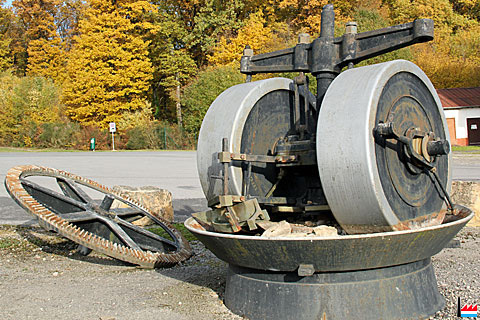 Poudrerie de Luxembourg, Kockelscheuer (Photo: 29.10.2011 jmo)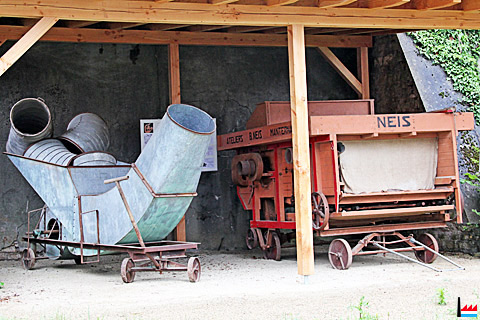 Monuments: machines agricoles Neis - Monumente - Landwirtschaftliche Neis - Maschinen in Manternach (Photo: 20.6.2012 jmo)
Rue Syrdallstrooss - direction Mertert

Cubilot - Kupolofen (de la Fonderie Massard, Kayl) à Steinfort (Photo: 13.6.2001 jmo)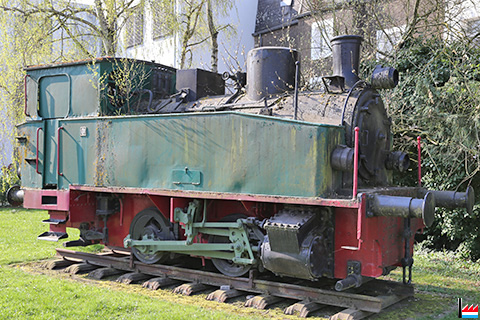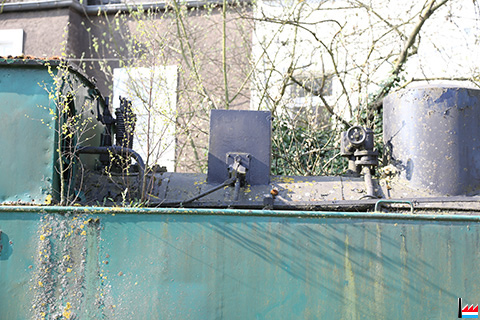 Monument: Locomotive à vapeur ARBED 020T ARBED Esch-Belval No 21 à voie métrique à Esch/Alzette (Rue de Luxembourg / Boulevard Berwart) (Photos: 7.4.2017 jmo)
Wa mir dësen Patrimoine an Dépôten oder op der Wiss vergammele loossen,
geet ee lues awer sécher mat der Zäit fir ëmmer verluer!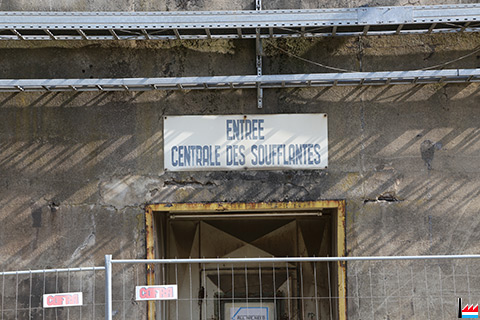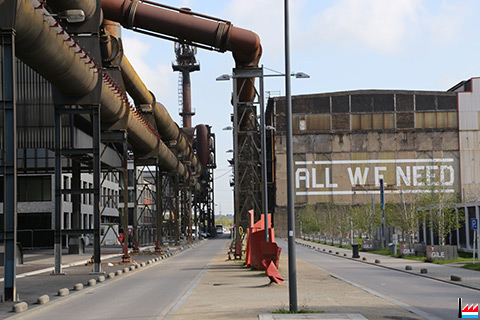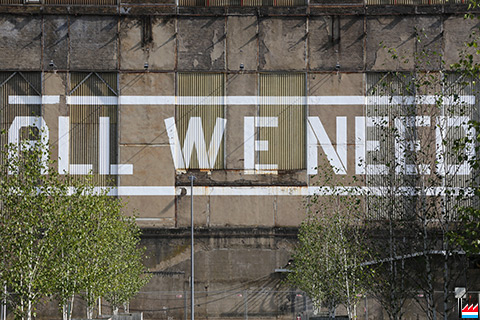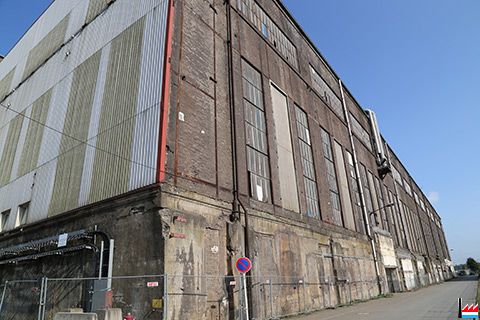 Futur CNCI - Centre National de Culture Industrielle Luxembourg, à Esch - Belval ? - Die frühere Gebläsehalle der Belvaler Hütte (Photos: 21.8.2014 jmo)
Bibliographie

Titel - Titre

Author - Auteur - Autor

Date

Edition - Verlag

Contents - Contenu - Inhalt

Pages - Seiten

ISBN
This is not the official page of this company / person. Any information or picture completing these pages is welcome! For more information just send us an e-mail.
Ceci n'est pas la page officielle de cette firme / personne. Toute information ou photo pouvant compléter ces pages est la bienvenue! Pour des informations supplémentaires, veuillez nous envoyer simplement un e-mail.
Dies ist nicht die offizielle Seite dieser Firma / Person. Jede Information oder jedes Foto, welche(s) diese Seiten vervollständigen, ist herzlich willkommen! Für mehr Informationen, senden Sie uns einfach eine E-mail.
| | | |
| --- | --- | --- |
| | | Created by / Créé par / Copyright: jmo |